Sedgefield Heritage Trail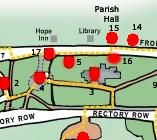 You are in the churchyard (5)

The churchyard has been 'closed' for many years and burials now take place in a more modern cemetery in the village. A large memorial in the north-west part of the churchyard, is a monument to Frederick Hardwicke Bolton who died at the battle of Balaklava during the Crimean War.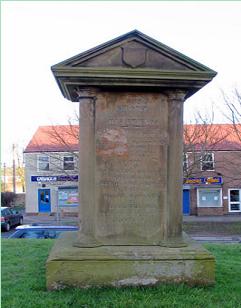 The Church Tower.

This was completed around 1492. The clock in the tower was bought and installed by public subscription at the end of the 19th century to mark Queen Victoria's Jubilee. The current blue face dates from a more recent restoration. Traditionally the funeral bell was half muffled after the death of anyone of importance, and a passing bell was rung twelve hours after a death, thrice for a child, six times for a woman and nine times for a man. The curfew bell was also tolled from the church tower until the 1960s. This rang at 8.00pm in the winter and 9.00pm in the summer.